Instruksjoner for Wirecard
Start by going to //www.mywirecard.com/.
Om du har problemer med å sette inn penger med ditt personlige Visa/MasterCard og vil ha et alternativ, hvorfor ikke prøve Wirecard!
Wirecard tillater deg å sende og motta penger verden over i reell-tid. Det er kjent som et virtuelt MasterCard som tillater deg å handle hos millioner av internettsteder verden over. Det tar rundt 30 sekunder å åpne en Wirecard konto, så du kan sette inn penger til SlotsMagic på null tid!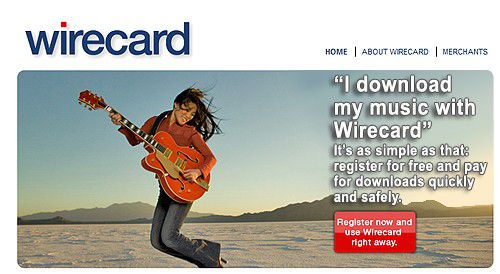 Registrering
Klikk så på "Register Now and use Wirecard right away" Knappen.
Bostedsland
Begynn med å fylle inn detaljer om landet ditt, valuta, og språk. Velg deretter "Continue" knappen.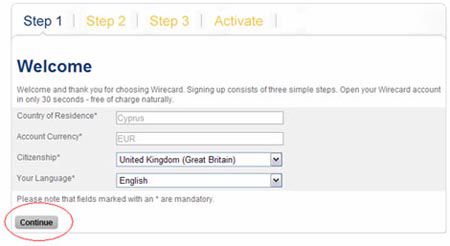 Personal details
Du vil så matte fylle inn følgende felt med sann og riktig informasjon.
Telefonnummeret ditt er den eneste måten du vil motta en aktiveringskode på, så dette må være riktig.
Ditt lands ringekode vil allerede være på plass, +357, så alt du behøver å gjøre er å fylle inn områdekoden (dropp første 0) og telefonnummeret. For eksempel, dersom nummeret ditt er 01628-543533 skal du skrive +3571628543533.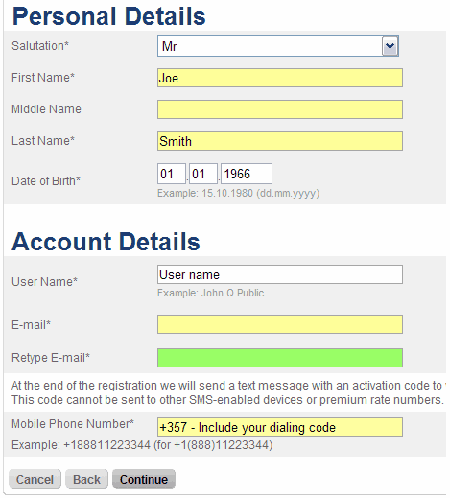 Sikkerhet og regler for bruk
Herfra skal du sette sikkerhet for kontoen din, og akseptere regler og villkår/data beskyttelse.
Pass på at du leser all informasjon, fyll inn riktige detaljer, og velg "Continue" når du er ferdig.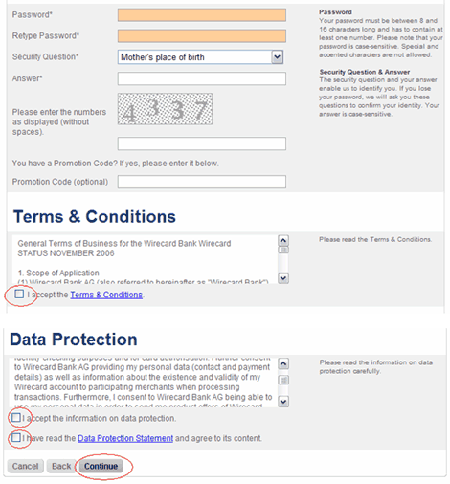 Aktivere kontoen din
Vi kommer nå til aktiveringssiden. Du må fylle inn aktiveringskoden som ble sendt til telefonen din via tekstmelding.
Dersom du ikke har mottatt koden, kan du velge "I received no activation code" knappen og forsøke igjen.
Eller, om du ser at telefonnummeret ditt er feil, har du muligheten for å endre dette. Når du har mottatt koden, klikker du bare på"Activate" knappen.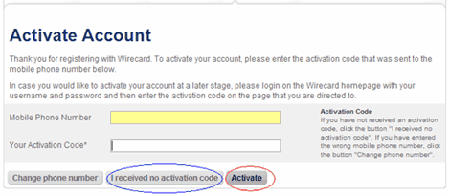 Sett inn penger
Kontoen din er nå aktivert så du kan begynne å sette inn penger med kredittkortet ditt.
Velg "Deposit Money" muligheten for å bemidle kontoen din.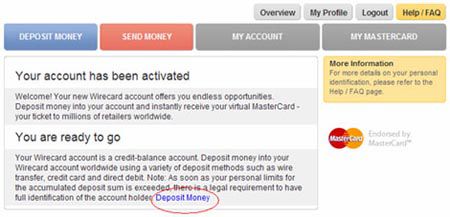 Fylle inn innskuddsbeløpet
Nå skal du skrive inn beløpet du vil sette inn. Vennligst husk at minimumsinnskudd hos SlotsMagic er $20, så du må ta med valutakursen i betraktningen.
Klikk så på "Continue" Knappen.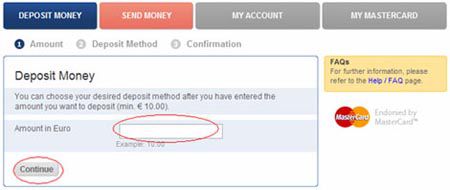 Legg til ett nytt kort
Velg "Add new card" for å legge til kredittkortet ditt.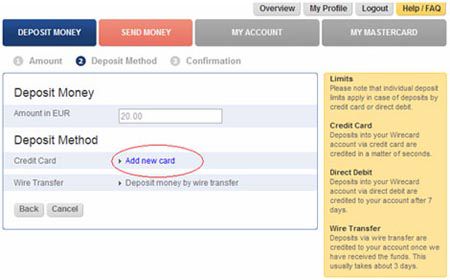 Fylle inn kortdetaljene dine
Velg korttypen du bruker og fyll inn kortdetaljene dine.
Når alle detaljer er fylt inn, klikker du på "Continue" knappen.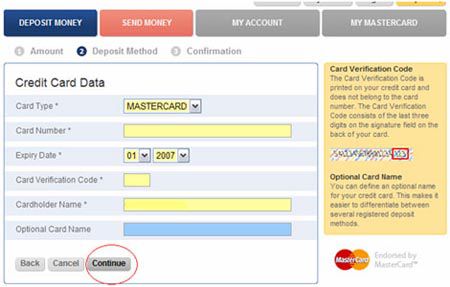 Vellykket innskudd
Når du har lykkes i å sette inn penger, vil du se bekreftelsesskjermen.
For å se din virtuelle MasterCard informasjon, må du velge "My MasterCard" knappen.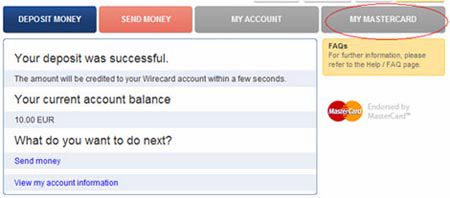 Ditt virtuelle MasterCard hos Wirecard
Denne skjermen gir deg all informasjon du behøver for å sette inn penger til SlotsMagic.
Dersom du velger den lille pilen ved siden av MasterCard nummeret ditt, vil den vise deg verifikasjonskoden og utløpsdatoen på ditt Wirecard.
Husk at nå som Wirecardet ditt har penger tilgjengelig, behøver du bare fylle inn følgende detaljer i Wirecard innskuddsdelen av SlotsMagic klienten.
MasterCard nummer for ditt Wirecard
Verifikasjonskode (CVV2)
Utløpsdato
Kortholderens navn