Åpne en Moneybookers Konto
Moneybookers er en rask og pålitelig online lommebok tjeneste. Spillere kan åpne en konto og bemidle denne via bankoverføring eller kreditt-/debetkort.
Vi anbefaler Moneybookers som SlotsMagic spillerenes valg for sikre og pålitelige online betalinger. Det er umiddelbart, så du kan utfordre vennene dine til et spill his SlotsMagic innen minutter!
It is very easy to open an account with Moneybookers. Just click this link to open one and select "Sign up now".
Vennligst merk at de også har siden tilgjengelig i forskjellige språk.
For English please select this link.
For Greek please select this link.
We have created a step by step guide to open a Moneybookers account if you need the extra help. Please click here.
Når du har registrert og bemidlet Moneybookers kontoen din, vil du kunne sette inn penger til SlotsMagic kontoen din umiddelbart og begynne å spille med en gang.
If you need help with depositing then you can access their FAQ's (Frequently Asked Questions) and then select "Deposit".
Moneybookers har et Kundeservice senter: +44 870 383 0232
De har også en online beskjedsservice som er hjelpsom.
Minimumsbeløpet for innskudd med Moneybookers er $20, når det gjelder uttak, finnes det egentlig ingen grense!
Ved å bruke Moneybookers til å gjøre et innskudd eller uttak ved vårt casino, er det ingen avgift.
Instruksjoner
Det tar bare fire, veldig enkle trinn for å åpne en konto hos Moneybookers. Begynn ved å gå til www.moneybookers.com/app/ og velg "Sign Up Now".
Kontotype
E-postverifikasjon
Personal details
Bekreftelse
Moneybookers krever følgende informasjon for å forsikre seg om identiteten din.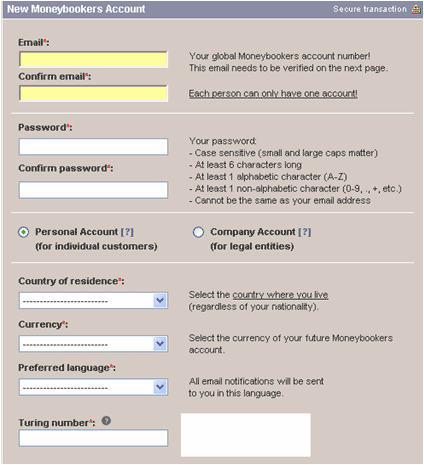 Når du har fullført denne siden, vil en verifikasjonsepost med en link bli sendt til e-postadressen din.
Sjekk e-posten din og klikk på linken for å bekrefte e-postadressen din og fortsett deretter med registreringsprosessen.
Deretter skal du oppgi dine personlige detaljer.
Når du har fylt inn detaljene dine, klikk "NEXT".
Du vil da motta bekreftelse på detaljene dine.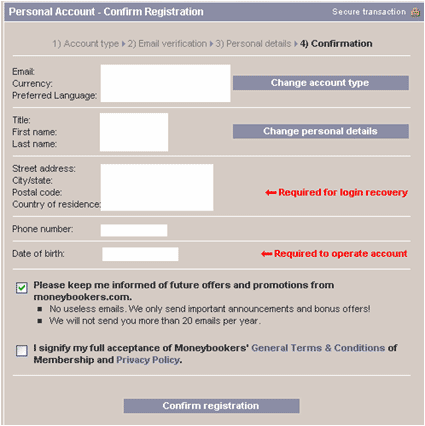 Kryss boksen for akseptering av Regler og Vilkår, og klikk på "Confirm Registration". Du har nå åpnet en Moneybookers konto.